Due to the Postal Rate hike, one-kit shipping rises to $7; two-kit shipping is $8.

You may order 2 kits only at one time.
For more than 2 kits for a group, contact us with your shipping address and we will send you a quote.

Humans fill the orders, not machines. We know who you are.

U.S. shipping addresses only. Allow 10 to 14 business days for delivery.


| | |
| --- | --- |
| Showing 1 - 2 of 2 results | |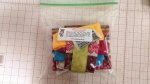 Quilt Kits (2 kits maximum, please!)

To receive the correct pricing, click on the top arrow only. Please disregard the "quantity" arrow.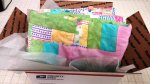 Quilt Donation

A $10 donation will ship your quilt to a child in need. Please feel free to donate as much as you like.