Quilt Kits
Please use this page to order 1 or 2 kits. For more than 2, contact us.
At this time, we can ship only to U.S. addresses.

You will see "One Quilt Kit-$6" next to an arrow. Click on that arrow to select "Two Quilts Kits-$7." Ignore "Quantity." Please accept our apology for this website glitch over which we have no control.

Allow 10 to 14 business days for delivery.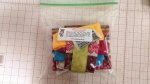 Quilt Kits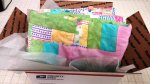 Quilt Donation

A $10 donation will ship your quilt to a child in need. Please feel free to donate as much as you like.